July 31st, 2009 in College Study Abroad | 1 Comment by Eva
After five months particpating in the IFSA-Butler study abroad Costa Rica program,  and hundreds and hundreds of new faces and places, I'm home. I feel very different, but yet unchanged at the same time. Maybe it is because I changed little by little and never really noticed a big leap. The first chance I get to show off my spanish, I am on it like bread on butter. At a family party with all my best friend's family surrounding me, I let it all flow out and I could not even believe it myself as I spoke a smooth string of vowels, consonants, syllables, verbs, nouns, phrases…WOW! I impressed myself.


Since it has been a couple of weeks since my re-entry, do you wonder, whats LA like? Well I've had tons of small spanish encounters but I am certainly lacking in the in-depth, meaningful or between friends-playful spanish that became so familiar to me. I often struggled at first with my English, either I would respond to someone in Spanish or mix up words from both languages. It became sort of a joke that I would be taking ESL courses alongside some of my Los Angeles buddies! Good ol' East Los Angeles, I always regarded it as sort of its own Spanish-speaking community but at the same time, it does not compare to Costa Rica in the least.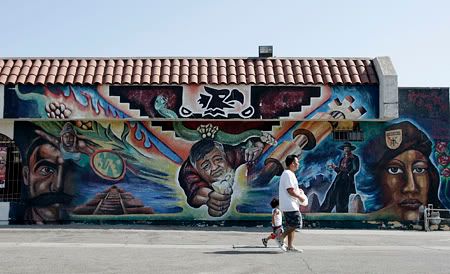 It is the little things that I miss the most, like sharing some sweet bread with my host Mom, watching soccer with my host Dad or running around the house with my host brother. Just the other day my mom here bought me a "Cars" balloon for my birthday and the first thought that came to mind was, Matias would love to have that. Every store I walk into, I can't help but see shirts, cups, plates, toys…etc. from the movie "Cars," and I always say the same thing, "I would get that for Matias." Unfortunately, the realization hit me, I may never see him again. I try not to think that way though because I'm almost certain I will be back to Costa Rica.
So as I go about my days seeing everything for the first time again, being amazed by the small things even. I am amazed at the smoothness of the roads, the five-lane roads, the huge gas-guzzlers that zoom by me on the streets and the price of food, movies, and fun altogether! I try and make everyday meaningful here, because it is, whether it be going to the beach, driving around hollywood or going to scenic views of L.A. just to soak it all up. I realize that people are pretty much alike anywhere you go, just in different sizes, shapes, shades and languages. The only tools you need to have to travel the world are basically an open mind and an adventurous spirit! Just as I say to all of Costa Rica, until we meet again, PURA VIDA!